Join.Me, a web conferencing tool, has released a new feature in the mobile version: Whiteboard for iPad. It's worth a look.
Overall assessment:
This is definitely a big step in the right direction for making digital graphic recording accessible for more people. With this tool, you can start, host, and graphically record a web meeting in seconds, all from your iPad.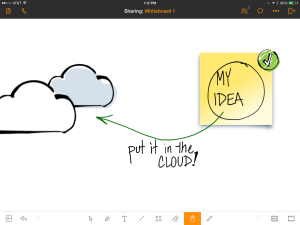 What is it?
Join.Me is a web conferencing tool (think WebEx, GoToMeeting, Adobe Connect, Zoom, and so on — there are lots.). This one has a hip, friendly vibe and is incredibly easy to use whether you're on a desktop, a laptop, an iPad or other tablet, or a mobile device. Incredibly easy.
The thing that has catapulted Join.Me from 'incredibly easy' to 'wow, just wow' for me is its new whiteboard for iPad feature. I tested it today with some willing volunteers (thank you all, you know who you are) and I'm impressed.
With the whiteboard, you can draw, write, create shapes, and import images from Join.Me's easily-accessible library or from your own photos on the iPad. You can share it while you're drawing it, so viewers can see your whiteboard. You can share other documents, too, once you get them into Join.Me. You can draw right on the iPad's screen and everyone can see it whether they are joining the meeting from a desktop, a laptop, an iPad, or a mobile device.
With one tap you can be in an audio conference along with the screen sharing, which means you can start, join, and participate in web meetings on your iPad and share your iPad's screen. Yes, that means you can now graphically record web meetings on your iPad and have everyone see it. Easily.
What's it good for?
I can see using this in several ways:
To share concept sketches or other documents with clients, annotating them in real time while we talk, even if I'm sitting in an airport or a hotel room or anywhere else.
To graphically record web meetings and have everyone be able to see it, even if I don't have my giant Cintiq handy.
To quickly create rough sketches to capture ideas during a meeting.
Likes & Wishes
What I like about the whiteboard tool:
Infinite canvas: You can just keep sliding your work to the side and adding more. Viewers can pan and zoom independently of the presenter, too, so they can go back and check details anytime they need to.
Zoom: Totally necessary for any drawing app, in my view. The zoom isn't as smooth as I would like and it takes a couple tries to zoom out sometimes, but there's a handy framing button that jumps you back and forth.
Drawings are objects: Everything is treated like an object, which is nice because it can be resized, dragged, removed, recolored, and so on. You can pull a sticky note out of the Join.Me library, write on it, and then move and resize the whole note.
Layers: I also really like layers in my drawing apps. This one has rudimentary layers, allowing you to move objects in front of or behind other objects.
Library: The sketch library provided with the app is nice. I like that you can also bring in your own art — which means you can create your own library of stuff that you use over and over. It's really easy to drop stuff into the whiteboard from the library, too.
Audio: During testing, I tapped the little phone icon in the top left corner and joined the call from my iPad. The sound quality on my end was great, and my partner in crime told me she could hear me loud & clear too.
What I wish:
It still isn't a collaborative whiteboard; only one person can work on it at once. If you pass the presenter role to someone else, your whiteboard stays with you, and they have to start a new one or share another document, so in that sense it's like any other web conference screen share. However, you can email the whiteboard to yourself in JPG, PDF, or (game-changer alert!) native Join.Me format, so someone else can load it into their copy of Join.Me and continue working on it. I'm a big fan of any iPad app that lets you move your content around. BIG fan.
Like any other iPad graphic recording tool, it does slow you down. It just takes longer to navigate around the space, draw and write things. I wouldn't try to do detailed graphic recording while facilitating a meeting using this tool.
You can't use the whiteboard from the desktop version of Join.Me, at least not that I can see. You can watch, but you can't create and share a whiteboard. Since you can create and share your screen using any application you have on your computer, this isn't a huge deal.
Where do I get it?
The app is available on the app store. If you don't need to run meetings, it's free. If you want to host meetings, you'll need to visit Join.Me on the web and get an account. There's a basic, free one that lets you have up to 10 participants, and there are pro and enterprise levels too.
There's also a Join.Me desktop application that's only necessary if the person on the computer wants to present. If they're just attending, they can do that right in a web browser without downloading anything. (Did I mention easy?)