Your meeting room is all prepared. Your templates, markers, and sticky notes are at hand. But you and your client are both (very properly) practicing social distancing. So you have a face-to-face process for [strategy, visioning, brainstorming, decision-making, you name it], and you suddenly need to deliver this session remotely. You don't even know where to start. Great! Let's do this.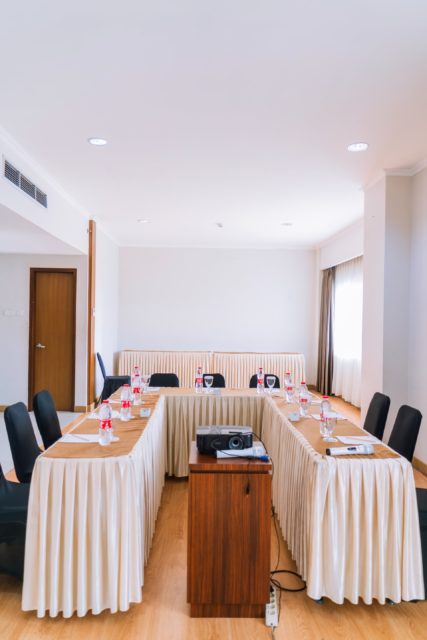 This is a bare-bones crash course in how to translate your face-to-face offering to a virtual one. We'll cover:
Your mindset
Your mental model
Converting your existing agenda
Getting help
Matching processes with tools
Common problems you may encounter
It can be a lot more complex than this, but this is a good starting point if you've never done it before. Throughout, I've named tools that I personally prefer, but you can choose others that do the same thing. Let's go.
Your Mindset
First, stop panicking. This is do-able, and you can do it. Also, your participants really need you to hold the container for them while they work, and you can't do that effectively while you are panicking. So leave the panic at the door.
Second, accept that something will go wrong, and when it does, embrace it. I've done remote sessions for years and I still open each one with the thought, "Hmm, I wonder what will go wrong today?" I phrase it a little differently, though. I think to myself, "Hmm, I wonder what I will learn today?" Everything that goes wrong is a gift, because it teaches you something you didn't know. It's okay. Remain calm, explain what's happening, and work the problem. It'll be fine.
Third, let go of the fear that your virtual session will by definition be worse than your face-to-face one would have been. That isn't necessarily true, especially for some kinds of work which are actually easier to do online. Accept that it will be a different experience, not necessarily a worse one, and aim to provide the best experience that you can.
Your Mental Model
This part is for those who have almost no experience in virtual settings, so you can wrap your mind around how it's set up. Skip this section if you've participated in a bunch of remote sessions before. Otherwise, read on.
You'll have a meeting room, just like you do any other time. People will connect to the meeting room and remain in it for the duration of the session. The tool I use to create the meeting room is Zoom. Everyone connects to the same Zoom link and can use a phone or their computer to hear what's going on. They can see each other (if they're using video cameras) and anything that I'm sharing on my screen too. Only the host (me, or you in your case) needs a Zoom account.
You'll have supporting tools, like you do in any other session. Instead of sticky notes, paper charts, and paper templates, you'll use digital tools so your participants can engage in the hands-on activities you want them to do. They will connect to these tools using a web browser, while they are still connected to the meeting in Zoom. You give the link to the supporting tool or tools (go easy — multiple tools get confusing really fast), and everyone connects to it. I use tools like MURAL for sticky notes and visual templates, Trello for kanban boards, and Google Docs for shared editing.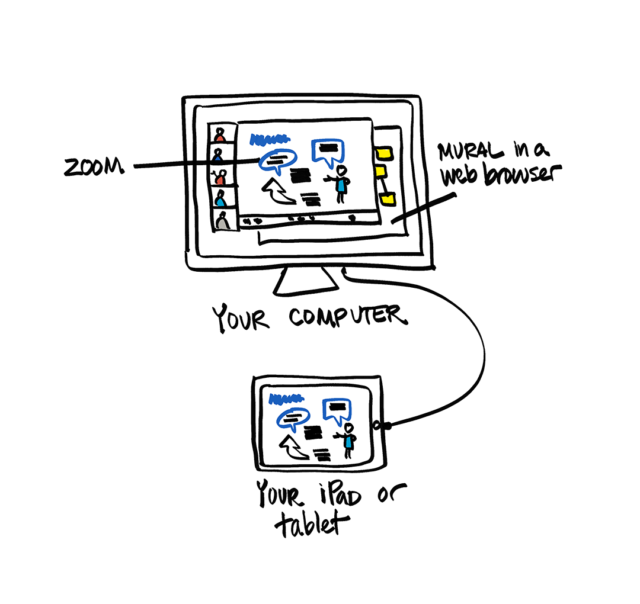 Pro tip: Usually, people are either looking at Zoom or they are looking at the shared tool, so if you are going to be working in a shared tool for a while, have people turn off their video camera in Zoom. Even when they are in Zoom breakout groups while using a shared tool, their focus will be on the tool, not on Zoom. Turning off the video camera can make the audio clearer and the tools load faster for people with limited bandwidth.
If you do graphic capture, you'll also have a tablet (iPad or similar) that you can write on. You'll share this screen in the Zoom session while you're capturing. I use Concepts as my drawing app, but I recommend others for first-timers.
Converting Your Existing Agenda
The basic crash-course process for this consists of five steps:
Take out 25% of your activities (or make your session 50% longer). You can't get as much done in the same amount of time, especially when you're new at this. Transitions will eat up a lot more time than you expect. See this post for more details, including when to add breaks.

Identify the process you are using at each stage in your agenda, then select a tool that matches it and supports its desired outcome(s). Use as few tools as possible, even if it means using the same tool for two or more different activities. See the table below.

Create any templates or other materials you need so that they are ready in the selected tools. Include instructions right in the tool whenever possible, so that they can refer back to them if they get confused.

Visualize the transitions you will be asking participants to make between tools. How will you help them make the switch and get oriented? How will you teach them the basics of the tool so they are able to do what you ask them to do? How will you support them when they get stuck? Answer these questions for yourself, and you will be better able to support them through the session. Draw a diagram of the transitions between tools for your own reference. Make notes on your copy of the agenda to remind you what to say and when to say it.

Practice with each tool beforehand. Make mistakes, so that when participants make the same mistake, you can help them out. Do everything you are asking them to do. Find out where you need to give extra instructions to prevent mishaps.
Getting Help
Everyone is trying to learn this very fast right now. Several of the tools I use either have fantastic online tutorials (I'm looking at you, Zoom) or have staff who can help guide you through the basics, or both. Sign up for a demo webinar (thank you, MURAL) if they are on offer. Google the name of your tool plus "tutorial" or "demo" to find what's available.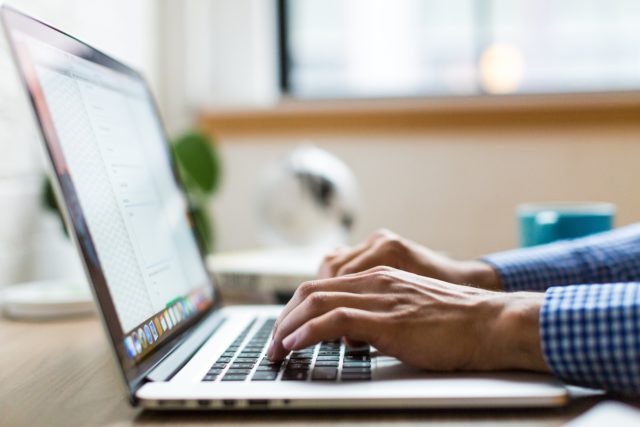 Matching Processes with Tools
Here is a list of common processes that you might need to use, and tools that support them. It's obviously not an exhaustive list, but these are some of the most common things I do in virtual sessions. Again, I've listed my favorite tools; there are many others available.
Process You Want to Do
(links in this column go to how-to articles)
Tools That Support It
(links in this column go to the tool's website)
Breakout groups
Zoom
Breakout groups with templates and sticky notes
Zoom, along with:
MURAL, pre-loaded with your template
Check in circle
Zoom, sharing an image of the participants in a circle
Creating or editing a shared piece of writing
Google Docs or Office 365
Creating or editing a shared presentation
Google Docs or Office 365
Discussion circle
Zoom, using video if you can
Dot voting
MURAL
Fishbowl
Zoom
Flow charts, roadmaps, quad grids, other visual tools
MURAL or Google Slides or Office 365
Graphic recording
Zoom, along with:
iPad or tablet and drawing program of choice
Kanban boards
Trello or MURAL
Looking at a shared resource
Zoom, using screen sharing
Polling
Zoom
Sticky notes
MURAL
Threaded conversations, text chat, sidebar conversations
Slack
Common Problems You May Encounter
Problem: People behind firewalls can't access certain tools.
Solution: Have them do a pre-meeting tech check. Some tools have a test link (for instance, Zoom's is here). For others, like MURAL or Google Docs, set up an open-access test document and send the link to your participants ahead of time.
Problem: People get lost switching between tools.
Solution: Visualize how this will work before you start. Give clear, explicit instructions, both verbally and written down in the tool they will use. Spend an extra minute making sure everyone is with you before you start. Have a colleague or volunteer present who can help stragglers figure out how to get where you are.
Problem: Not everyone has a video camera.
Solution: Ask the group what they prefer to do in this case: turn off all cameras, or have people use them if they are available. Keep in mind that the people who show up on video will have more perceived power and will have a different experience than those who don't. Personally, I tend to be an all-or-nothing facilitator when it comes to video, but it's up to you and your group.
Problem: Someone can't connect to one of the tools.
Solution: If you have a tech helper, ask them to work with the person. If it just can't be resolved, pair that person up with a buddy who is responsible for making sure that person's ideas and input get added to the shared document. Share your screen through Zoom so they can watch what's happening in the tool, even if they can't get there themselves.
Caution: This is the only time you should screen share a tool that people are actively using. Otherwise, some folks will get lost between the real tool and your screen share, and they are likely to get confused at some point.
Problem: Someone's audio or video suddenly stops working when it had been working before.
Solution: Ask them to leave the meeting and re-join. If that doesn't work, ask them to leave the meeting, reboot their computer, and then re-join. Usually that fixes it.
Problem: There's a ton of background noise from someone's microphone that's making it hard for others to hear.
Solution: In working sessions, I prefer to have everyone stay off mute; the conversation flows more naturally that way. However, sometimes there is a lot of noise in one location. Look on the participant list in Zoom to see whose microphone icon is filling up with green, and politely ask that person to mute themselves unless they need to say something until the noise has stopped.
Caution: It's difficult to switch back to Zoom to mute and unmute while working in one of the web-based tools if you're not used to it. Give people extra time to do this. They can return to Zoom by selecting its icon (blue with a white video symbol) from their task tray (PC) or dock (Mac).
---
I hope this crash course helps you find a starting point. As you do this more, you'll get more comfortable with it. Remember that people are generally supportive when you invite them along on a learning journey like this. And good luck!